2021 KFIA Annual Meeting
This event starts Tuesday, April 6 at 08:00:AM and is scheduled to end Thursday, April 8 at 09:00:PM.
Please join us at the KFIA 56th Annual Meeting and find out what is happening not only in Kentucky but around the country. We have some excellent speakers lined up to discuss the current issues related to how we are moving beyond Covid and the issues that will need addressed from labor to transportation. Below is a our schedule of the activities happening at the meeting.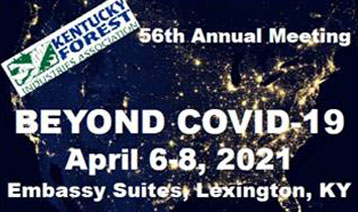 TUESDAY, APRIL 6
9:00 a.m - On Site Registration Begins & Exhibitor Set-up
9:30 a.m - John C. Smith Memorial Golf Scramble Registration
10:00 a.m. - Golf Scramble Tee off – University Club
of Kentucky Golf Course, Lexington, KY
3:00 p.m - KFIA Board of Directors Meeting
6:00 p.m. - Welcome Reception
WEDNESDAY, APRIL 7
7:30 a.m. - Registration & Breakfast in the Exhibit Area
9:00 a.m. - Opening Session- Welcome – KFIA President Dan Allard, Domtar Paper Co.
9:15 a.m. -State Legislative and Programs Update
9:30 a.m. -Kentucky Children's Hospital/Log a Load for Kids Update
9:45 a.m. -National Legislative Update
10:30 a.m. -Hardwood Promotion Coalition
11:30 a.m. -KFIA/KY Tree Farm Awards Luncheon
KFIA Business Meeting - Election of Officers & Awards Presentation, the Luncheon will
include some comic relief from local television/radio celebrity Lee Cruse.
2:00 p.m. -SFI/SIC Committee Meeting – Open to Everyone
Main topic: SFI Projects and Certification Update
2:00 p.m. - 5:30 p.m. -Robinson Lumber Company/ Van Meter Insurance Hospitality
Suite
3:00 p.m. - Fellowship for Christian Lumbermen's Prayer Meeting
5:30 p.m. - Exhibitors Reception in the Exhibit Area

THURSDAY, APRIL 8
8:00 a.m.- Registration & Continental Breakfast
9:00 a.m. - General Session/ Welcome
Guest Speaker: Ryan Quarles, Commissioner, Kentucky Dept. of Agriculture
9:15 a.m. - Transportation Issues and Funding for Infrastructure
10:00 a.m. - Labor Force Issues and Opportunities for Improvement
10:45 a.m. - Current Covid Relief Programs
11:30 a.m. - Meeting Adjourns
12:30 p.m. - Optional Tour: James E. Pepper Distillery ($25/person includes tour, tasting and complimentary glass.)
We look forward to bringing the industry together to provide you with the information and contacts to make your business flourish and grow in 2021. Please feel free to contact the KFIA office at 502-695-3979 with any questions or needs you have related to attending or exhibiting at the Annual Meeting.
We strongly encourage members to make your reservations as soon as possible. We have increased the number of rooms in our block for this year but reservations need to be made by March 06, 2021 to obtain our convention rate of $145.95 per night (includes parking) in order to get in the room block for the meeting.